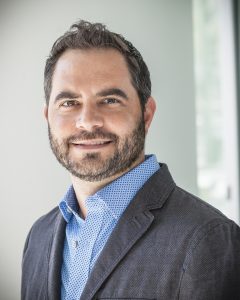 As a founding partner of Linespace, Clint Woesner brings 20 years of professional multi-disciplined design experience to the partnership. Clint holds a Bachelor of Science in graphic design from the University of Cincinnati, College of Design, Architecture, Art and Planning (DAAP).
Before the success of his own business, Woesner was senior designer for Selbert Perkins Design. His creative mark was internationally recognized in 2000 from the LAX Enhancements Project, including the LAX Gateway. Woesner's award winning contribution presented him with the Society for Environmental Graphic Design Honor Award and the Art Directors Club Silver Cube. Other notable projects include US Airways Center wayfinding system, and the Universal Studios wayfinding system.
He has honed a solid knowledge of design principles and methodology through being engaged in every aspect of Linespace's projects. Clint is currently Adjunct Professor at Chapman University and California State University Long Beach teaching Advanced Graphic Design and Senior Capstone Project respectively.